As the domestic market is becoming saturated and competition among brands has intensified, more and more home furnishing companies have speeded up their efforts to develop overseas markets. However, the Covid-19 pandemic has brought exporters with huge challenges, like sales backlash, loss of customers and difficulties in market development. On June 18, 2020, the first-ever Global Alliance of Chinese Top Brands (GACTB) was co-founded at a cloud signing ceremony by Opple, Dongpeng, Micoe, Robam and Holike, the five leading brands in the Home Building Materials Industry, aiming to share channel resources and jointly develop overseas markets. GACTB is committed to providing global consumers with a one-stop solution for high-quality home furnishing services.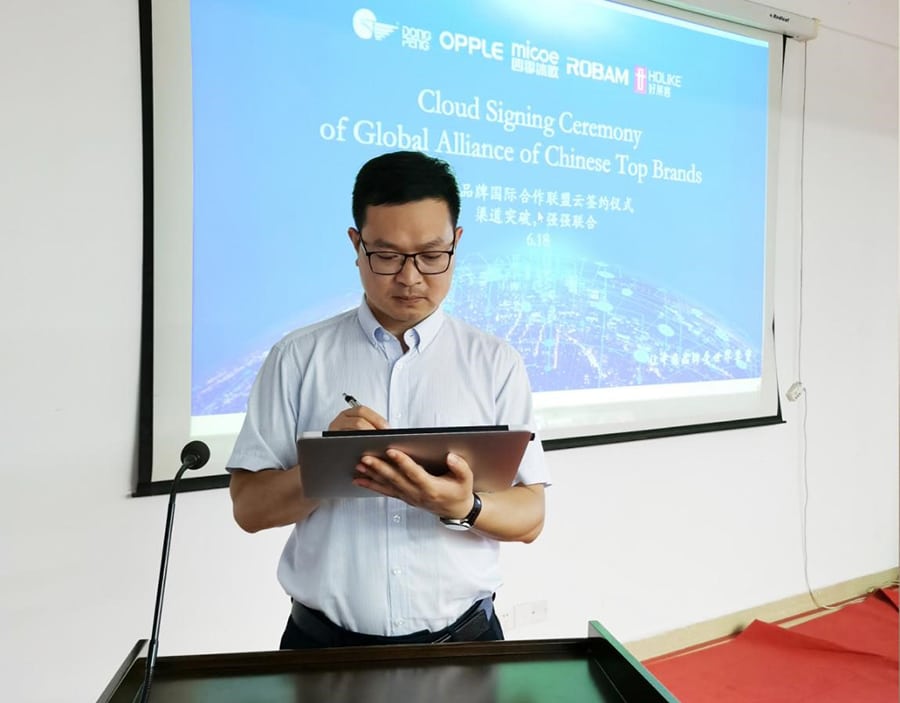 To Expand Sales Channels in All Ways through in-depth Branding Alliance
As the Covid-19 pandemic is being contained globally and life and work in various countries are gradually getting back to normal, overseas house owners will attach great importance to the quality of living in a healthy way. In this regard, brand reputation and product quality will be the priority considerations in their decision-making process. GACTB, the pioneering cooperation alliance overseas in the Building Material Industry, will uphold the value of Branding, Society, Customers and Members, empowering the overseas sales channels for each other through sharing client resources, and join hands in developing new markets, bidding for projects, completing distribution system and prompting brands under the principle of all-win cooperation.
To Win the Respect of Global Market with Seamless Synergy
All members of GACTB feature a leading market share, high reputation and brand premium, providing a strong endorsement for this first-ever overseas Chinese alliance in the Building Materials Industry. Moreover, each member has a strongly independent research and development capability, producing numerous green and environment-friendly products in order to promote the sustainable development of the society. Through exchange and communication, members will effectively enhance their international reputation and expand the influence of Chinese brands in the Building Materials Industry, and eventually win the respect of the world.
About Members of GACTB
OPPLE
Founded in 1996, Opple has been engaged in R&D, production, distribution and after-sales services of lighting sources, lighting fixtures and controls, operating in over 70 countries and regions in Asia Pacific, Europe, Middle East and South Africa. As an industry giant with in-house R&D capabilities and focused on lighting products, Opple constantly expands its product line to artistic switches, integrated home furnishing, kitchen and bathroom appliances and accessories and expands all of its business units using its huge dealer base, with a view to becoming an industry-leading provider of lighting system and integrated home total solutions. With a powerful marketing team and a well-established worldwide marketing network, it now has over 100,000 outlets of sale of various types. Opple became a listed company in 2016 (stock abbreviation "Opple Lighting", stock code 603515.SH). Opple Lighting improves the quality of spaces across the board and lightens each detail of life for you.
MICOE
Micoe Technology Group Co., Ltd was founded in 2000, is affiliated to Solareast Solar Energy Co., Ltd, was listed on the Shanghai A-share main board at May 21, 2021(Stock name: Solareast, Stock code: 603366), is the world's new energy heat utilization leading company、China's space business partner、the designated supplier for China Pavilion of 2015 Milan& 2017 Astana& 2020 Dubai World Expo.
Group business scope: the research and development、manufacturing、sales and service of solar energy(hot water、heating)、air energy(hot water、heating、cooling)、water purifier(cleaning water、soft water)、electric water heater、bathroom hardware、kitchen appliance、domestic appliance.
Micoe provides the clients integrated energy system one-stop service with bid of new technology and new model, which can meet all the needs of domestic、commercial、industrial hot water and clean energy heating.
By the end of 2019, Micoe has promoted 15 million solar water heaters, which is 2 times of the total amount of solar thermal area promoted in the whole European Union, the social benefits generated are equivalent to replacing 45 million tons of standard coal, are equivalent to a power saving 124.6 billion KWH, is about one year's output of the three Gorges Power Station, are equivalent to reduce 50.5 million tons of carbon dioxide emissions, are equivalent to plant 90 million threes for earth.
Micoe Group's products cover 31 provinces and autonomous regions, more than 2000 counties (districts), and nearly 20000 villages and towns, products are exported to Germany, the United States, Canada, Mexico, South Korea, South Africa, Australia and so on more than 100 countries and regions. Now the production and sales can reach to 3 million solar water heaters and 1 million air source heat pumps.
ROBAM
ROBAM Appliances (stock code: 002508) established in 1979 is specializing in manufacturing household kitchen appliances including range hood, domestic stove, disinfection cabinet, electric oven, steam stove, microwave oven, dish-washing machine and water purifier etc. Over 40 years' development, it has become one of the global high-end kitchen appliances manufacturers with longest development history, highest market shares, largest production scale, most comprehensive product categories and most extensive sales territories.
The development and innovation of more than 40 years has made ROBAM a widely recognized leading brand in the area of global kitchen appliances. ROBAM appliances are sold well all over the world; especially its range hood and stove have respectively been number one in sales in global market for consecutively 5 years.
Based on "Culinary Origin", ROBAM is building a one-stop experience space integrating modules of kitchen appliances, cooking products and cooking classroom to create prospective culinary lifestyle. Currently, it has nearly 100 Culinary Origin stores in China mainland. In addition, we are planning to set up "Culinary Origin" experience stores in the United States, Canada, Chile, Peru, Australia, New Zealand, Malaysia, Dubai, India, Pakistan, Thailand, the Philippines, Vietnam, Indonesia, and South Africa etc.
In the future, ROBAM is committed to establish a world-class centurial enterprise leading culinary life reformation, creating the new style of kitchen of the world and all beautiful aspirations for the cooking life of human beings.
HOLIKE
HOLIKE CREATIVE HOME Co.,Ltd specializes in the field of whole house customization. According to the needs of consumers, comprehensively deploys a large home strategy of "all house customization, cabinets, wooden doors, clapboard, home furnishing" , focusing on providing consumers with a one-stop whole-house solution to help make life easier at home.
Since its establishment in 2002, HOLIKE, as a leading brand in the industry, has a sales network all over the world and has established nearly 1,800 brand stores. Its marketing and service network scale is in a leading position in the industry.
Brand positioning
Since the establishment of HOLIKE, it has always adhered to the "customized home master" brand positioning, with "master design, master quality, master service" as the core and driving force, committed to tailoring high-quality healthy and comfortable homes for each family.
DONGPENG
DONGPENG Group was founded in 1972. In 48 years, it has developed rapidly and transformed from a ceramic tile manufacturer to a world-class one-stop service provider including business domains: sanitary wares, wood flooring, painting, home deco, whole house customization, etc. Through unremitting product innovation and technological development,DONGPENG has become one of the China's leading brands in the ceramic industry, and the largest ceramic manufacturer and trendsetter. With more than 6,000 retail stores and products exported to 106 countries and regions on 6 continents, DONGPENG International is the overseas branch of DONGPENG Group's Ceramic Tiles Business, targeting at the middle and high-end consumer market and providing full range ceramic tile products and related supporting services.